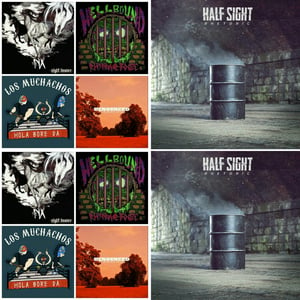 £

3.00
HALF SIGHT - RHETORIC
10 tracks of passionate melodic hardcore from these Yorkshire lads.
Comes sealed in a digipak.
THE NX - NIGHT HEAVER
4 tracks of furious hardcore rock from the north east of England. This is a unique orange vinyl style CD in a card sleeve.
RENOUNCED - THE MELANCHOLY WE ACHE
Arguably the best release from 2014 now available on CD!
6 page booklet in jewel case
HELLBOUND - RHYTHM & BOOZE
This CD looks like a vinyl record inside of a card wallet, the disc will be green and not black like the picture, very unique! 5 tracks of metallic hardcore with plenty of riffs and groove. Hailing from Middlesbrough.
LOS MUCHACHOS - HOLA BORE DA
6 tracks of catchy sludge hardcore with groove, all the way from Mexico via North Wales, in card wallet